Wireless AMR/AMI systems
Automatic Meter Reading (AMR) and Advanced Metering Infrastructure (AMI) systems of ECOMATRIX production include a full range of wireless solutions for automated collection of consumption data from different metering devices (water, gas, electricity, heating, cooling) and transmiting this data to a central database for analyzing, troubleshooting and billing. These technologies allows utility providers to save time and money to avoid visiting each location for meter reading.
Benefits of this solution:
- transmiting of accurate readings to a computerized billing system, eliminating the need for estimated bills and visiting customer's objects,
- collection of consumption data in real-time compared with estimation based on statistical data,
- lets to track the consumption from the home,
- can alert the costly leaks and theft detection,
- improved asset management.

The exact information with analysis can help both utility providers and customers to control the consumption of water, gas, and electricity.
ECOMATRIX offers AMR/AMI technologies based on WalkBy/DriveBy Reading Systems and Fixed Reading Management System with wireless radio frequency platform (RF 433/865/868/902 MHz). Flexibility of this systems allows to use it with thousands of objects located in different areas of the cities or with one/more objects.
In WalkBy Reading System a user collects data from AMR available meters, using a tablet with attached RF Terminal (EM3011) - the portable transceiver with the built-in antenna, connected to the computer or a tablet with usb cable. DriveBy Reading System is installed in a vehicle. The reading device automatically collects the meter readings while driving. A user drives inside of the service area until all the meters are read. Components include a laptop or a tablet, software, RF Terminal with external vehicle antenna.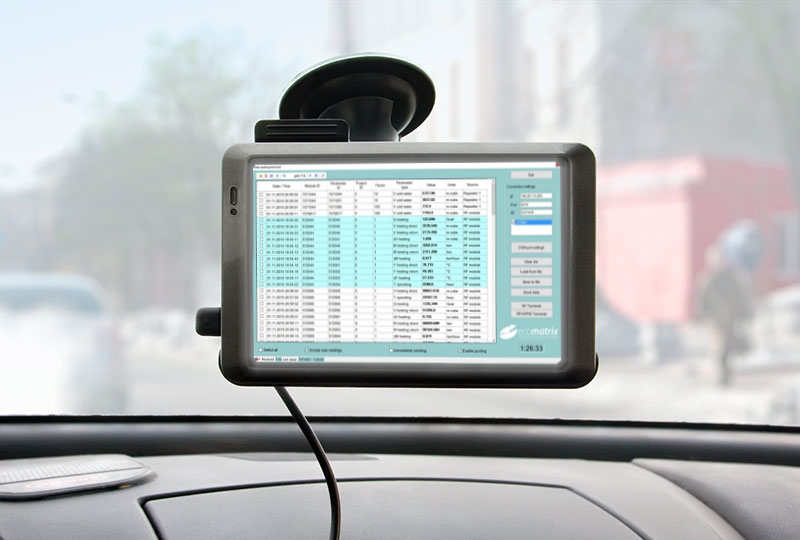 Fixed Reading Management System allows utilities companies and other customers to collect automatically remote meters in real time. For this aim it is used the network of repeaters and concentrators by which the information is transfered to the system server. The true potential of an AMR deployment should encompass more than simply recording consumption once a month or so. ECOMATRIX's AMR/AMI system reads and delivers a continuous stream of data, enabling the management system to provide not only extensive billing information but also management intelligence that can lead to significant savings on an on-going basis.
The system is based on a fixed network architecture that has been designed by ECOMATRIX. The system includes concentrators for data collection and processing and repeaters to extend the system network coverage. Information is collected continuously from meters and sent out in radio packets. ECOMATRIX's experience includes implementations of its technology in projects with complex buildings, widespread townships, underground installations, and many other difficult to read meter installations.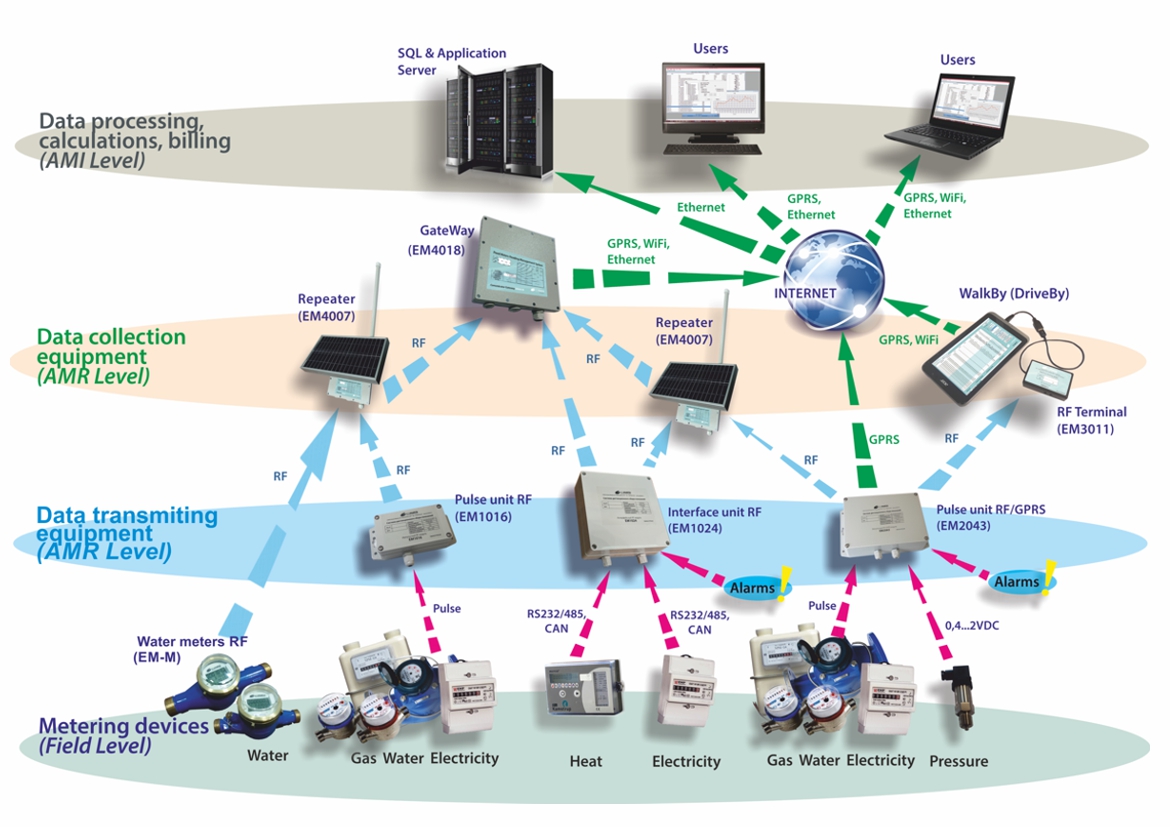 Data transmiting equipment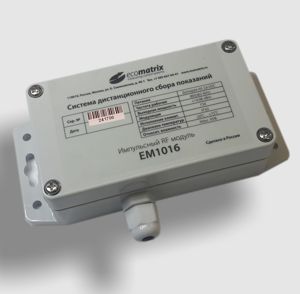 Pulse RF unit (EM1016)
External radio transmiting unit EM1016 is used for data transfer from water, electricity and gas meters with pulse outputs. The unit has 4 built-in pulse inputs and the lithium battery for more then 12 years of operation. The user settings are set by radio with RF Terminal and the special program. The meters data from EM1016 is transmitted directly to the WalkBy/DriveBy system or (and) to the Fixed Reading Management system for automatic collection.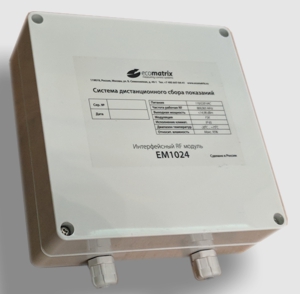 Interface RF unit (EM1024)
External radio transmiting unit EM1024 is used for data transfer from meters of water, heat, electricity and gas or other devices with serial data transfer interfaces. Power supply is 220/110 VAC, 120mA. The unit has built-in RS232, RS485, CAN interfaces, and also additional digital inputs from different alarm systems devices.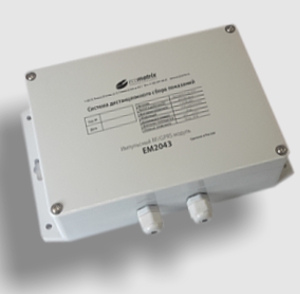 Pulse RF/GPRS unit (EM2043)
External RF/GPRS transmiting unit EM2043 is used for data transfer by radio and (or) by cellular communication (GPRS, 2 SIM cards) from meters of water, electricity and gas with pulse outputs, and from the connected pressure sensor. The unit has 3 built-in pulse inputs, 1 analog input from pressure sensor, and also additional digital inputs from alarm systems devices. The unit has the lithium battery for more then 6 years of operation (including power of the connected pressure sensor).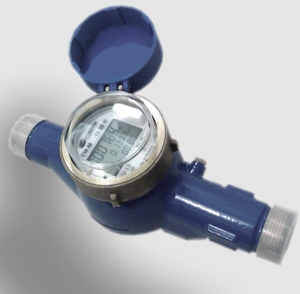 Water meters with internal radio transmitters (EM-M)
EM-M - is a radio fraquency (RF) transmiting water meters. RF transmitters integrated into an electronic registers of water meters (MultyJet type, Dn15, 20, 25, 32, 40, 50 mm). Water meter accurately transmits the water consumption data and eliminates the needs for external wiring and complex infrastructure. The system provides accurate metering capabilities for water management - online reading, back flow consumption, tampering and sabotage alarm, waters leakage report etc.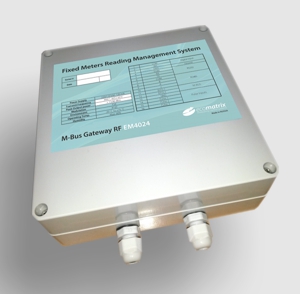 M-Bus Gateway RF unit (EM4024)
M-Bus Gateway RF enables to transfer data to M-Bus networks from ECOMATRIX RF devices (EM-M, EM1016, EM2043, EM1024 units) and other devices and networks that use open protocols (such as Modbus RTU and other). Power supply is 220/110 VAC. The unit has built-in RS232, RS485, M-Bus interfaces, 3 pulse inputs from meters with pulse outputs and 1 digital input.
Data collection equipment
Example of installation of the data collection equipment with objects in multi-storey buildings. Represented RF units are established both in apartments, and in cellars of houses (in cellars - main water meters and heat meters):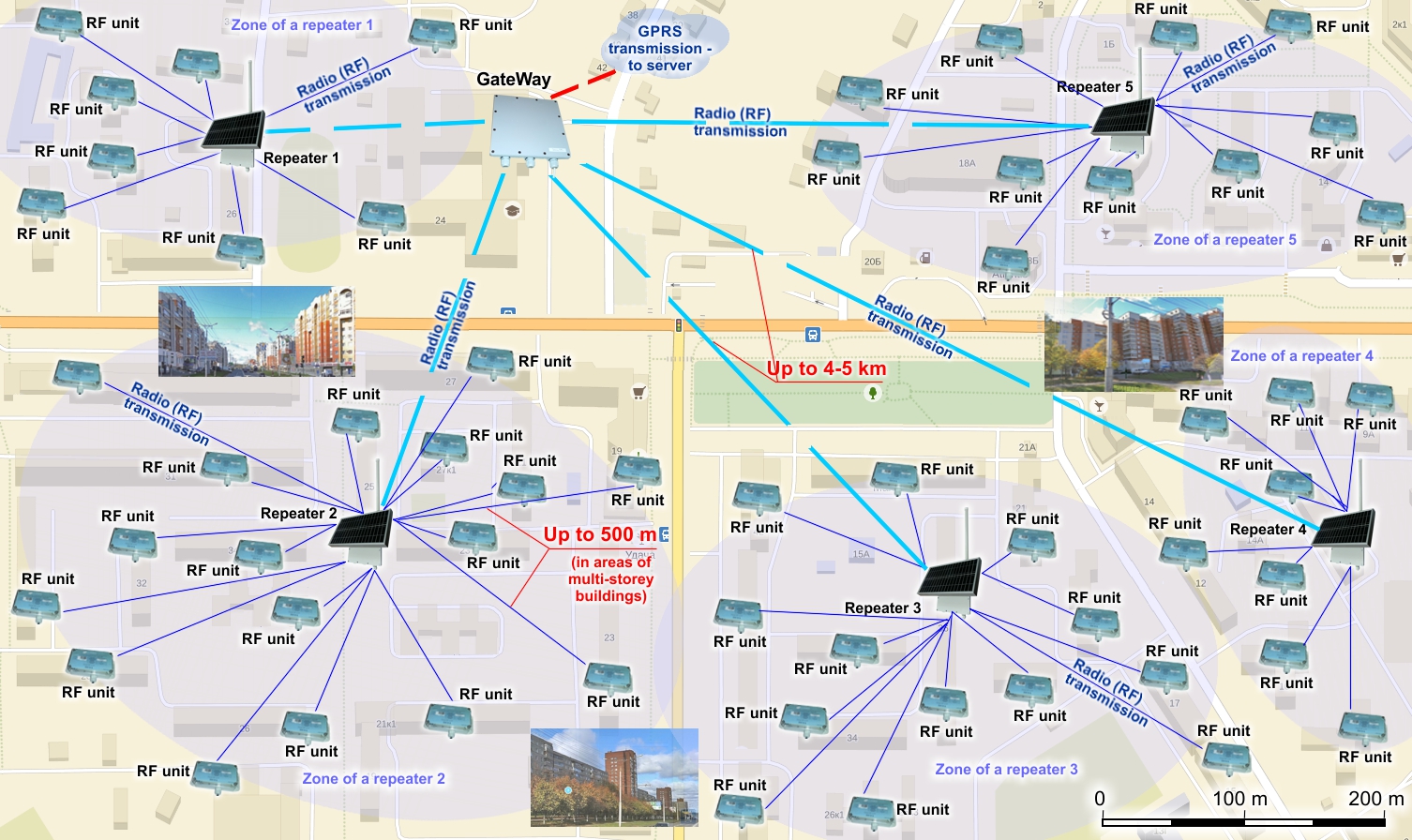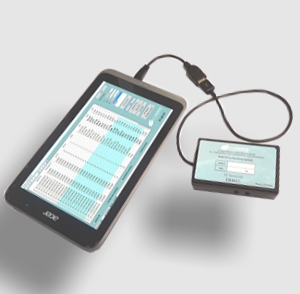 RF Terminal (EM3011)
In WalkBy Reading System an user collects data from AMR available meters, using the portable transceiver RF Terminal (EM3011) connected to the computer or a tablet PC. DriveBy Reading System is installed in a vehicle. The reading device automatically collects the meter readings while driving. With various software combination the RF terminal (EM3011) is used as the receiving module to WalkBy or DriveBy Systems and for the configuration of various RF devices.
More Info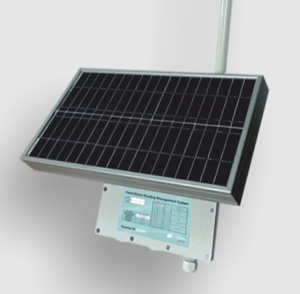 Repeater RF (EM4007)
In Fixed Reading Management System Repeater EM4007 can receive RF transmissions from meters and retransmit them to the concentrator GateWay. Repeater RF works on battery with 2 options of charging - from 220/110 VAC or from solar battery.
Each 15 minutes the repeater broadcasts voltage of accumulator battery, status of work and internal temperature.
More Info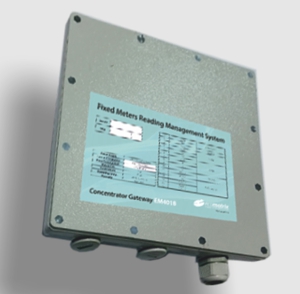 Concentrator GateWay (EM4018)
The concentrator GateWay is used for data collection by radio from meters and repeaters, for storage in non-volatile memory and transfer by various communication channels (GPRS, WiFi, Ethernet etc.) to the system server. The concentrator GateWay obtains the data from thousands of meters. Power supply is 220/110 VAC with accumulator.
More Info
Software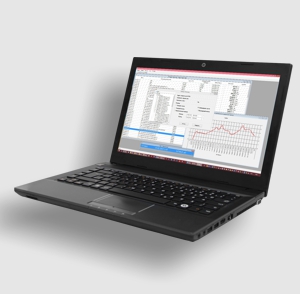 Software of Data Collection and Processing
Software of Data Collection and Processing is used for incoming information from the primary metering on different communication channels, its storage, further processing, analysis and data management. The software includes database, information processing subsystem, information display subsystem. Information display subsystem is installed on user's computers. The database and the information processing subsystem can be located at the operator's station or on a separate server, to which the user's computer is connected by local network or via Internet or GPRS cellular connection. Flexibility of the system allows to use it with thousands of objects located in different areas of the cities or with one/more objects.
More Info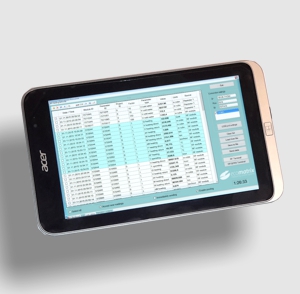 WalkBy/DriveBy system Software
Software for collecting data from AMR available meters.With the RF terminal (EM3011) this software is used to WalkBy or DriveBy Systems and for the configuration of various RF devices.
More Info